Shared. Fresh. Local. Seasonal.
In the spirit of our locally sourced and farm-fresh ingredients, we have designed our entire dining experience tapas style, allowing guests to sample a variety of dishes, tastes and flavorings that have inspired us. Click here to download the full menu
Rooftop Raw Bar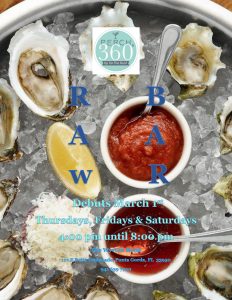 Excited to Announce the New Raw Bar on the Rooftop!
Starting March 1, 2018 Perch 360 will debut the Rooftop Raw Bar!
Thursday thru Saturday 4:00pm - 8:00pm
Rooftop Brunch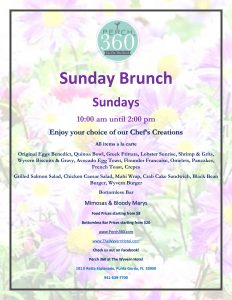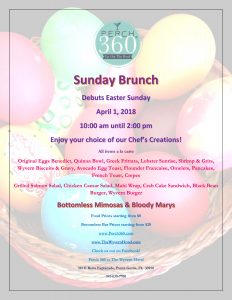 TAPAS MENU

COCA COLA SHORTY
Short rib braised in Coca cola, caramelized in oven, rustic corn bread and jalapeno crèma topped with fried onions
BAJA STEAK SKEWERS
Tenderloin tips, pineapple, red bell pepper, cilantro, napa cabbage, tomato gastrique
VEAL STUFFED PORTABELLA
Grilled portabella mushroom stuffed with seasoned ground veal, red onion, sage, roasted garlic and panko topped with forest mushroom marsala demi glaze
FRIED PICKLES
Hand cut pickle slices, lightly battered and deep fried served with Cajun aioli and apple slaw
NAUGHTY GNOCCHI
Roasted garlic infused gnocchi sautéed with Neuske's bacon, scallions, sundried tomatoes tossed with "moody blue" crème topped with crispy leeks
U10 SCALLOP
Pan seared, served over saffron aioli, sofrito rice, avocado lime puree,dusted with paprika
SHRIMP SKEWERS
U8 shrimp, cherry tomato, arugula and shallots tossed with lemon ginger vinaigrette
CALAMARI FRESCA
Lightly breaded, fried calamari rings and banana peppers topped with tomatoes, red onion, cilantro, cucumber, candied jalapenos, sweet and spicy chili glaze, sweet soy reduction
SALMON PHYLLO
Smoked salmon mixed with cream cheese, spinach and dill wrapped in crispy phyllo dough
FISH & CHIPS
Beer battered fresh local fish, served with rustic saffron potatoes, napa cabbage slaw tossed with key lime white balsamic, served with cajun remoulade
BURRATA A LA VEGGIE
Creamy burrata cheese, zucchini "noodles", red onion, garlic, cilantro, tossed in  salsa roja topped with toasted pine nuts
HOUSE MADE FLAT BREADS
CAPRESE
Tomatoes, basil, aged balsamic glaze
MUSHROOM FLORENTINA
chopped spinach, red onion, toasted pine nuts
SPICY HAWAIIAN
Capicola, pineapple, crushed red pepper
WICKED CHICKEN
Grilled chicken, buffalo sauce, moody blue cheese
*** Consuming raw or undercooked meats, poultry, seafood, shellfish or eggs may increase your risk of foodborne illness***